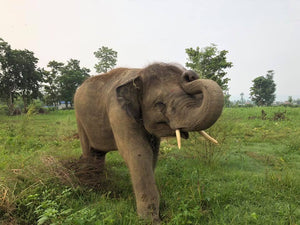 We must now replace Samrat's shelter!  The cost is $1500 USD.  Please help if you can!  All donations go 100% to elephant rescue and retirement.  A little goes a long way! If you're unable to travel or volunteer this a great option to help us with our continued efforts!
Donate $100 to help maintain Samrat's Toys, Sun Shelter and his Behavioral Enrichment.
About Samrat:
Samrat is our youngest elephant in the herd and also the only boy. Samrat was born in Nepal in 2013 and he has been with us since he was 2 years old.  Like most young boys, his favorite thing to do is play!  He spends his days grazing the grounds of sapana and playing in the river.  By night he enjoys his special tire toy we constructed in the chain free corrals. He is a very strong boy so we have to replace the rope and tires often!